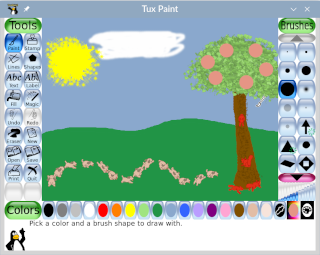 "Tux Paint is a free, award-winning drawing program for children ages 3 to 12 (for example, preschool and K-6). It combines an easy-to-use interface, fun sound effects, and an encouraging cartoon mascot who guides children as they use the program.
Kids are presented with a blank canvas and a variety of drawing tools to help them be creative." -
Tux Paint's website
My nephews love this program!
There are tons of "stamps" which are images of everything from animals to fruit to band equipment, cars, old world buildings, planets, and on and on..
And a "Magic" button that has filters and drawing tools enough to almost make a GIMP or Photoshop enthusiast green with envy, without the difficulty associated with those 2 programs.
And my 6 year old nephew giggles at the goofy sound effects, everything from a dialog box sound "Na na na!" to the stamp for duck, that says "Duck". (And many more...)
It's a great way to get them into computers while actually doing something creative instead of them just being plunked down in front of a video game, becoming mindless zombies. :)
If you want to download/install this program, you can get it from apt, synaptic, (or other package manager) or from their website
http://tuxpaint.org/
.